Compact HD Digital Camcorders
The Kodak ZI8 are compact high definition camcorders that take stunning 720p/1080p videos in 16:9 aspect ratio. Installed 16Gb SD card allows 4 hours record time at 720p – 2 hours record time at 1080p. Download your video files directly to your computer via attached USB cable. Video files (Quicktime .mov) are compatible with Mac OS iMovie and newest version of Windows Live Movie Maker.
High Definition SDHC Camcorders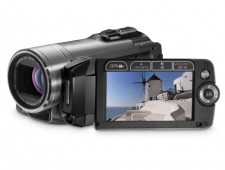 For clients with experience editing in High Definition, the Canon VIXIA HF200 is available. This camcorder records to a provided 32GB SDHC memory card in AVCHD format and is capable of FULL HD (1920×1080) recording. The compact design ensures portability and the lens features a 15x optical zoom, combined with a 3.89MP CMOS sensor and DIGIC DV III Image Processor for vivid video and still images. The 2.7″ multi-angle widescreen LCD and Optical Image Stabilization ensure a user-friendly recording experience. Up to 100 minutes of recording time is available with the provided batteries.
Camera Tripods
Standard size tripods are lightweight, full featured, designed and engineered for use with most camcorders. Features a heavy duty 2-way pan head with a quick release mount and a geared center column for precise vertical positioning. Gorilla Pods are preferred when using point and shoot cameras or pocket video cameras. They feature a quick release clip to easy attach to your camera, over two dozen leg joints that bends and rotates 360 degrees giving you the ability to set up anywhere, and rubberized feet for enhanced stability. Monopods are ideal when you're on the go, taking up little space yet giving invaluable support and better results than hand-held shooting.