Data Projectors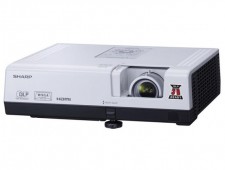 For the most portable solution, these high resolution data projectors are stored inside a padded carry case and can be taken to locations where a data projection cart is not convenient. Easily connect to a laptop computer via the supplied VGA cable for the ultimate in portable presentation capabilities.
Carts with PC Computer and VHS/DVD Combo Player
Carts are equipped with high resolution projectors, PCs loaded with Microsoft Office (including PowerPoint), and a VHS/DVD Combo player. A small amplified speaker is attached to the PC if sound files are included in the presentation and for video playback.
HDTV Carts
These carts include a 47″ HDTV, a Bluray/VHS/DVD Combo Player, and a VGA cable to connect laptops. An HDMI cable is available upon request if your laptop is able to accomdate this type of digital connector. The 8-inch wheels on this cart allow you to safely transport equipment between buildings.
Display Adapters
There are a variety of display adapters available to connect your laptop/tablet device to classroom projection systems