Tripod Projection Screens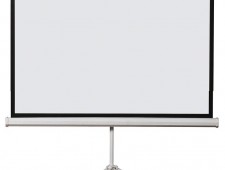 Projection screens are available in four sizes, 48″ x 48″, 60″ x 60″, and 70″ x 70″. Screen height is adjustable to accommodate any ceiling height. Each screen has a "keystone eliminator" that allows you to tilt the screen forward to compensate for distorted images.
Tripod Easels
Lightweight easels designed to carry up to 100lbs. Hinged chart holders at various heights allow you to display posters or charts of various sizes. Folds flat and weighs less than 8lbs.
Flip Chart/Easels
Multiuse easels hold paper pads or single page materials such as charts or posters using a spring-loaded clamp. This easel folds into a smaller transportable unit.
Note, users must provide their own paper pads and markers.
Portable Projection Stands
The Project-O-Stand provides a 25″ x 17″ area capable of supporting data projectors, 35mm slide projectors, laptops, etc. Telescopic legs allow you to adjust the height of the stand from 32″ to 56″. An accessory shelf is available if additional space is needed.
Laser Pointers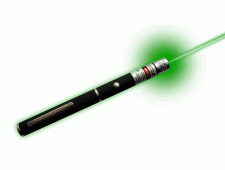 The "green"  beam laser pointers can be seen in mid-air in the dark, not just the laser beam dot. Transmits up to 500 meters (open space) for freedom to move around the classroom.
Extension Cords
25 foot, heavy-duty, grounded electrical extension cords.
Display Apadpters
There are a variety of display adapters available to connect your laptop/tablet device to classroom projection system. Most classrooms offer a VGA cable with audio while updated classrooms offer a HDMI digital connection as well.